Support Plan
Working with leading edge technologies is not always easy. We understand that developers or users of SANKHYA Software may need professional support.
SANKHYA Support is a suite of support plans that offers our clients a range of plans to select the most effective plan for their specific requirement. Please find below support plans along with a comparison chart that may be offered for SANKHYA Software.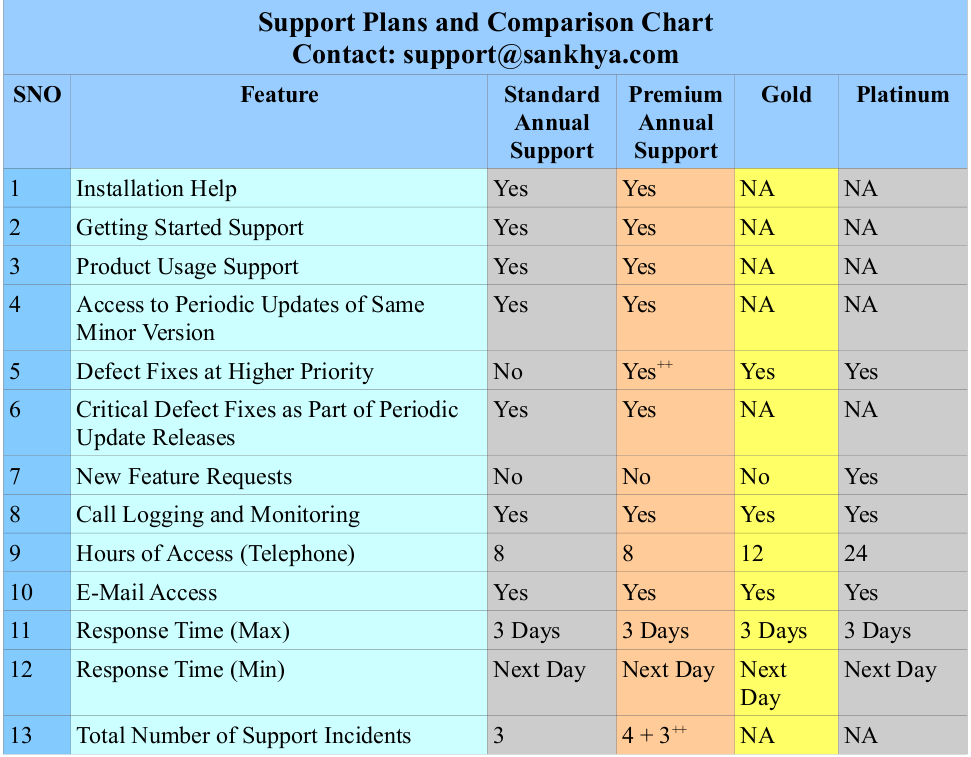 * A support incident is a customer call or e-mail associated with a usage question, installation help or a defect fix request that takes between 1-24 hours of a support engineers time. A single call that requires more than 24 hours of support engineers time is counted as multiple incidents on a pro-rata basis.
++ In addition to 3 support incidents per developer for Items 1,2,3 ; each developer will receive 3 additional support incidents under premium support for Item 5 (Defect Fixes at Higher Priority);
+ Gold and Platinum support options are available in standard hourly packs of 100 or 200 hours
+ Standard subscription customers receive support identical to Standard Support on a pro-rata basis depending on the subscription period.
Important: Support plans may not be available for all versions of SANKHYA Software. In particular. For a list of SANKHYA Software for which the above support plans are current available, please visit https://www.sankhya.com/info/support.html